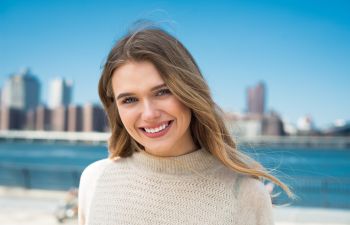 Today, there are multiple ways to straighten your smile. Whether you undergo traditional braces, clear braces, self-litigating braces or another orthodontic treatment, your teeth can be successfully moved into a more attractive and functional position. Unfortunately, many patients falsely assume that their orthodontic treatment is over when the braces come off. Instead, they enter the retention phase of their treatment. This involves wearing either a fixed or removable retainer. For patients that choose a removable retainer, you can enjoy some extra freedom. However, it is very important to understand the importance of your retainer phase of treatment – regardless of the type of braces you had.
Avoid these 3 common mistakes if you have a removable retainer:
#1 Not wearing your retainer. This is the single biggest mistake orthodontic patients make. Once your braces are removed, your teeth will have a tendency to move back to their original position. This essentially sabotages all of the hard work, time and money you've spent during your time in braces. Teeth keep shifting and moving as we age and mature. To "retain" your new straight smile for life, it is critical that you wear your retainer as long as recommended.
#2 Not using your retainer case. Although you can enjoy the freedom of taking your retainer out to eat, it may be tempting to just wrap your retainer in a napkin instead of putting it in its case. This can be a huge mistake considering that the majority of lost retainers end up in a restaurant or school cafeteria garbage can. If you do lose your retainer, you need to face the consequences and get a new one made as soon as possible.
#3 Not cleaning it properly. Your retainer is designed to hold your teeth in proper position, not to invite more bacteria into your mouth. Cleaning your retainer on a daily basis is important to your smile health. Even though you are not wearing your retainer while you eat, it is still in your mouth for many hours at a time. Failing to clean your retainer can increase your risk for cavities, gum disease and bad breath.
Whether you are instructed to wear your retainer only through the night or for the large majority of the day, it is crucial to the future alignment of your smile that you take the retention phase of your treatment seriously. At Georgia Orthodontics & Children's Dentistry, we help patients understand the consequences of not wearing their retainer as instructed or failing to care for it properly. We want to help you avoid the cost of a replacement retainer and prevent the need for wearing braces again.
Posted on behalf of Georgia Orthodontics & Children's Dentistry
13075 Hwy 9, Suite 110
Milton, GA 30004
Phone: (770) 521-2100
Mon – Fri
: 8:30am – 5:00pm