4 Reasons to Schedule Your Back-to-School Dental Visit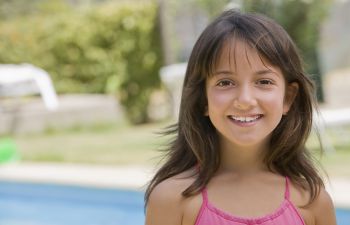 It's time to say goodbye to lazy summer days at the pool and begin another school year. As you rush around to find school supplies and buy new outfits, don't forget about what your child's smile may need before he or she heads back to school. In fact, now is an excellent time to schedule that routine dental checkup. Preventative dental exams and x-rays are recommended twice a year for optimal oral health. While these visits provide significant benefits regardless of when you schedule them, it can be especially advantageous to book that dental checkup before sending your child back to school.
Here's four valued reasons to include a routine dental visit in your back-to-school to-do list:
#1 Address Minor Dental Problems Earlier and More Conservatively

Routine dental visits are more than just giving your teeth a professional cleaning. They involve a thorough evaluation of your entire oral cavity, as well as necessary x-rays to view what is going on beneath the gums and bone. For children, these steps are critical. In fact, these appointments can commonly reveal developing cavities or other minor dental problems that can then be treated in a more conservative manner. By catching decay or infection at its earliest stages, we can often help kids avoid missed school days due to dental discomfort.

#2 Invest in Ways to Protect Your Child's Smile

Back-to-school dental visits can also be a great time to invest in some protection for your child's smile. For example, most dentists recommend dental sealants during elementary school years, and this simple step during your routine visit can provide powerful protection from cavities for those young back molars. In addition, you may use this visit as an opportunity to talk to us about getting a custom mouth guard if your child plays sports.

#3 Plan Ahead for Potential Orthodontics or Wisdom Teeth Removal

If you have a child that is in school, there's a large chance you will need to consider orthodontics or wisdom teeth removal (or both), depending on their age and how their teeth are growing in. These involve procedures that need to be planned for. In fact, you may want to book wisdom teeth removal during a winter break or start saving for braces this year if it looks like orthodontics are in your near future. A routine dental visit can give you a better idea as to when these events may or may not need to take place.

#4 Start the Year with a Brighter, More Confident Smile

Last but certainly not least, it is important to send your child off to school with a clean and confident smile. During a routine dental visit, your child's teeth and gums will receive a meticulous cleaning. Not only do we remove hardened plaque and tartar, but we also eliminate dingy stains from the surface of the teeth. This means that your child can smile bright and make a good first impression at the start of the school year.
Ready to schedule that routine dental checkup for your child before school begins? Call Georgia Orthodontics & Children's Dentistry. We do it all – from preventative care to orthodontics and everything in between.
Posted on behalf of Georgia Orthodontics & Children's Dentistry
13075 Hwy 9, Suite 110
Milton, GA 30004
Phone: (770) 521-2100
Mon – Fri
: 8:30am – 5:00pm