5 Signs Your Child Needs Braces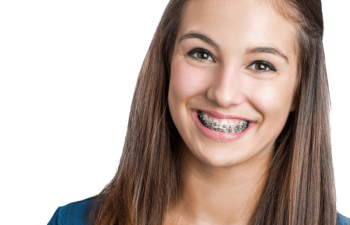 If you have an elementary-aged child, it is common to wonder if you'll be investing in orthodontic treatment for their smile. Orthodontics involves wearing braces or another type of oral appliance in order to better align the teeth. While this is something that your pediatric dentist can certainly detect at a young age, there are also some common warning signs that parents can see at home that may suggest that their child needs braces. Remember that orthodontic concerns caught and treated early can prevent complications in the future, including those involving speech, jaw comfort, aesthetics and more.
If you can identify with the following risk factors for pediatric braces, we invite you to schedule your consult at Georgia Orthodontics & Children's Dentistry:
#1 early or late loss of baby teeth
When teeth are not lost in the ideal or normal time frame, it can cause misalignment in surrounding teeth. For example, when baby teeth are lost too early, the neighboring teeth can migrate towards the empty space and create a crooked smile.
#2 jaws that don't match up
Jaw misalignment is another indicator for braces. This is more accurately diagnosed as an overbite, underbite or crossbite that prevents your child's teeth from lining up correctly. You may notice frequent cheek or tongue biting as a result.
#3 crowded teeth
If you see overlapping teeth in your child's smile, this is known as crowding. Crowding can lead to chewing discomfort, speech impediments, mouth breathing and dental hygiene challenges. Braces are the time-tested solution for crowded teeth.
#4 extended thumb-sucking
If your child is still sucking his or her thumb past the age of 4 or while adult teeth are trying to come in, you may want to consider the possibility of orthodontic treatment. Prolonged thumb-sucking can lead to front teeth protrusion as well as bottom teeth crowding.
#5 mouth breathing
How does the way your child breathes affect their teeth? Children who routinely breathe through their mouth are at risk for altered growth of their teeth because their tongue is not resting on the roof of their mouth. The jaws may narrow as a result and inhibit room for adult teeth to grow into their proper position.
Does your child need braces?
The only way to know for sure that your child needs (or will need) braces is to visit a board certified orthodontist. At Georgia Orthodontics & Children's Dentistry, we provide general dentistry in the same place we provide braces. This allows us to catch and treat orthodontic concerns at their earliest possible stage. Contact us today with any questions, or to schedule your child's appointment.
Posted on behalf of Georgia Orthodontics & Children's Dentistry
13075 Hwy 9, Suite 110
Milton, GA 30004
Phone: (770) 521-2100
Mon – Fri
: 8:30am – 5:00pm