8 Reasons Why Your Child Has Stained Teeth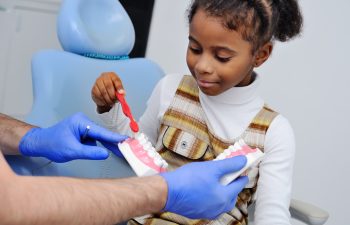 Most of us are familiar with battling tooth stains as an adult, but when your child's smile looks yellow or dingy, it can raise concern. The truth is, just like adults, there are many reasons why kids suffer from tooth discoloration. Baby teeth are not invincible; they are prone to some of the same issues as permanent teeth when it comes to staining or enamel loss. Here are some factors to consider if your child's teeth aren't so "pearly white".
Tooth Decay – Poor brushing habits can contribute to a dingy smile. Early signs of dental decay involve the presence plaque formation and yellowing.
Soda – If you allow your child to drink soda, tooth discoloration may result. Over time, the soda's acids can erode the enamel, allowing the yellow dentin layer to show through. When the soda is dark colored, the staining can be even more evident.
Medications – While taking a prescription or over-the-counter medicine may be necessary for your child's health, some of them can cause dental discoloration. Certain antibiotics and antihistamines are known to do this. Commonly, mothers who took tetracycline during pregnancy have children who are born with tooth stains.
Sugary Drinks – You may feel good about giving your child fruit juice as a source of hydration throughout the day. While this is certainly a better choice than soda, most dark fruit juices have strong pigments and loads of sugar that can contribute to a dingy smile. Any beverage is going to essentially "bathe" the teeth as it is consumed, so choose wisely.
Tooth Injury – If you notice a brownish or greyish tint to one or more of your child's teeth, there may be trauma or injury to the tooth. See a dentist for a proper diagnosis and treatment.
Multivitamins – Less commonly, the iron contained in your child's multivitamins may cause dark tooth stain. This occurs in a very small percentage of kids.
Too Much Fluoride – When your child's smile is plagued with brown spots or white streaking, this could be a sign of too much fluoride, a condition known as fluorosis.
Genetics – Last but not least, you may have to blame yourself for your child's less than bright smile. The strength of your tooth enamel can be an inherited trait. Those born with weaker enamel have teeth that are more easily stained.
While some tooth staining factors are unavoidable, there are things you can do for your child to limit discoloration. Make sure they are maintaining a diligent oral hygiene routine that includes brushing twice a day. In addition, limit sugary and acidic drinks, or at least have them rinse with water afterwards. Using a straw can also greatly reduce the likelihood of staining. At Georgia Orthodontics & Children's Dentistry, we are happy to help kids attain their healthiest and brightest smile possible.
Posted on behalf of Georgia Orthodontics & Children's Dentistry
13075 Hwy 9, Suite 110
Milton, GA 30004
Phone: (770) 521-2100
Mon – Fri
: 8:30am – 5:00pm