Caring For Your Preschooler's Teeth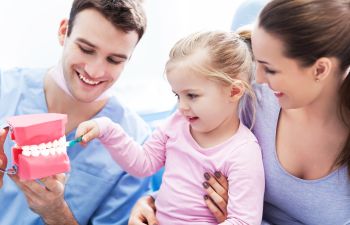 By the time your child turns 3 years old, you should be looking at a full set of 20 baby teeth when they smile. (Of course every child is different and some may be "late bloomers" in the tooth eruption category.) Dental care for your preschooler can look very similar to your own dental care regime as an adult. A primary goal of any patient, regardless of age, is to prevent decay. In fact, untreated cavities are one of the leading causes of missed school in kids. And just because they have baby teeth that eventually fall out, doesn't mean that poor dental health can't affect them. Children who have damage or severe decay on primary teeth can end up with speech disturbances, poor nutritional health and even threats to the permanent teeth that are waiting behind those baby teeth.
If you have a preschooler at home, here are some key tips to remember when caring for their teeth and gums:
Brushing
Gently brush your child's teeth twice a day with a fluoride toothpaste. Floss once a day. Don't let your child tackle the task alone at this stage, as they simply don't have the coordination and dexterity to do a thorough job.
Use a small soft toothbrush designed for kids.
Use a pea-size amount of fluoride toothpaste.
Don't forget to gently brush the tongue as well as the gums (which may require you to pull the lip and cheek aside with your finger).
Brush for two minutes – set a timer or play a silly song if it helps.
Have your child spit out the toothpaste after you're done. Rinsing with water is not necessary!
Store the toothbrush upright,  away from other toothbrushes and at least 6 feet away from the toilet to prevent contamination.
Be Smart About Foods and Drinks
As a preschool mom or dad, you probably have the luxury of choosing snacks, meals and drinks for your child. Diet can be just as important as brushing/flossing when it comes to dental care. So be smart about it!
Avoid sugary drinks like sodas, slushies, etc.
Allow 100% juice in moderation and avoid letting your child sip on juice throughout the day
Offer regularly scheduled snacks and meals instead of grazing or munching all day long
Save sticky candies or snacks as a special treat and rinse with water or brush immediately after
Stick to plain water for hydration as much as possible
Visiting the Dentist
Last but certainly not least, your preschooler's dental care must include routine visits to a dentist. At Georgia Orthodontics & Children's Dentistry, we have a talented team of pediatric dentists who can take care of your child's smile through all stages, from birth to adolescence. We understand what your preschooler's mouth needs to stay strong, healthy and confident.
If it has been six months or more since your child's last dental cleaning, please give us a call today!
Posted on behalf of Georgia Orthodontics & Children's Dentistry
13075 Hwy 9, Suite 110
Milton, GA 30004
Phone: (770) 521-2100
Mon – Fri
: 8:30am – 5:00pm