Correcting Black Triangles In Your Smile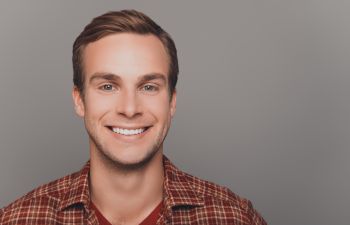 As you grow older, are you noticing dark spaces between bases of your teeth? These are known as "black triangles." Not only are they unsightly, but they can actually pose a threat to your oral health. Although it may seem like your teeth got thinner, it is really gum tissue that was lost. This empty space was previously filled with a triangular shaped gum tissue called a papilla. However, black triangles form when the papilla tissue receded or was lost. The reasons for gingival black triangles are varied and can include the following:
Gum disease – where bone loss has occurred
Trauma-acute accidental injury to the gum
Aggressive flossing or excessive use of toothpick
Poor fitting dental work
Malpositioned teeth
The Treatment Process
How your dentist treats your black triangles depends on what is causing this area of gum tissue to recede. First and foremost, the presence of gum disease must be identified and managed. The black triangles will only get more prominent if your periodontal condition is not under control.
If gum disease is not the culprit for your black triangles, your dentist will likely evaluate your labial frenum attachment. This ligament is found under your upper lip and attaches to your upper gums above your two front teeth. If this attachment is too low, black triangles can be a worsening problem. Minor gum surgery can elevate or reposition this ligament. Furthermore, if a loss of bone between the teeth is causing gum recession, then a gum graft and bone graft may be an option to correct black triangles.
In most cases of patients who have stable (or no) gum disease, a simple dental bonding procedure can effectively treat black triangles. Composite, tooth-colored resin is skillfully used to build out the adjacent teeth and close the triangular gap.
Remember that black triangles can be more than a cosmetic concern. These spaces allow more retention of food and debris and are vulnerable to bacteria accumulation and gum inflammation. Chronic gum inflammation leads to bone loss around the teeth. At Georgia Orthodontics & Children's Dentistry, we can correct your black triangles and restore a more confident, healthy smile. Schedule your consultation today.
Posted on behalf of Georgia Orthodontics & Children's Dentistry
13075 Hwy 9, Suite 110
Milton, GA 30004
Phone: (770) 521-2100
Mon – Fri
: 8:30am – 5:00pm