Could Your Child Benefit from a Habit Appliance?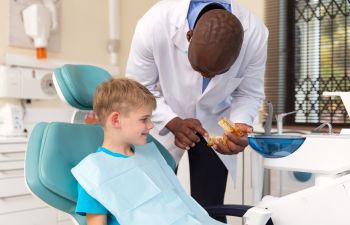 Habits are hard to break, especially when it comes to kids. Unfortunately, there are some prevalent habits facing young kids that can really impact their dental health over time. Thumb-sucking or finger sucking are among the most common.
Babies are born with a natural sucking reflex, and thumb sucking becomes means of self-soothing for many babies and toddlers. While the habit is typically harmless at first, thumb-sucking can pose a threat to your child's dental alignment if it continues too far into childhood. When other remedies don't work, parents can turn to a pediatric dentist or orthodontist for help.
A habit appliance includes a metallic gate that is rests on the roof of the mouth. It is fixed behind the front teeth and attached to the upper molars. Don't worry; this painless appliance is barely visible and does not affect your child's ability to eat. The purpose of a habit appliance is to give the child a physical reminder that their thumb shouldn't be in their mouth, as most kids suck their thumb almost subconsciously.
Eventually, the habit will cease completely and the appliance can be removed. While your child may be frustrated the first few days, this appliance can be very valuable in breaking a habit that leads to an open bite or protruding teeth. These are misalignment issues that can not only trigger the need for braces but also affect your child's speech development.
Preventing misalignment can be a big savings for both child and parent. If you have a child who can't break a thumb-sucking habit, call Georgia Orthodontics and Children's Dentistry to learn about our habit appliances for young kids.
Posted on behalf of Georgia Orthodontics & Children's Dentistry
13075 Hwy 9, Suite 110
Milton, GA 30004
Phone: (770) 521-2100
Mon – Fri
: 8:30am – 5:00pm