Discolored Teeth in Kids: When to Worry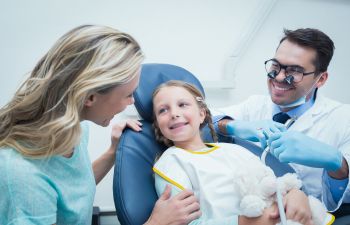 When your child loses baby teeth and you watch permanent teeth emerge in their place, you may be alarmed at their color. In fact, many parents question why their child's permanent teeth are darker or more yellow than the pure white baby teeth they once had. In most cases, this is absolutely normal.
Permanent adult teeth not only have more nerve canals, but they also contain more dentin than baby teeth. Dentin is the second layer of the teeth, and it is more yellow than white. Dentin lies just underneath the outer enamel layer, which is quite translucent. Permanent teeth are even more transparent when they first erupt. To make matters worse, you are likely seeing permanent teeth right next to lingering baby teeth, which can make them appear even duller and darker. Rest assured that over time these permanent teeth will lighten in color, and your child's smile will have a more uniform hue.
When Yellow Teeth Need Attention
While yellow adult teeth are most often a result of normal growth and development, there are situations that can make the teeth discolor abnormally. If you are concerned at the staining or dark color of your child's permanent teeth, a dentist may consider the following causes:
Dark-Colored Foods and Drinks – Does your child love berries or tomato sauce? Do you let your child consume a lot of sports drinks or sodas? Pay attention to the pigment and acidity level in what your child eats and drinks, as these can impact the color of their teeth.
Poor Dental Hygiene – Is your child brushing and flossing like they should? If not, the layer of bacteria and plaque can stain easily. When plaque hardens, it becomes tartar, which often displays a yellowish-brownish shade.
Injury and Trauma – Has your child recently fallen and/or hit their teeth? When teeth are injured and the nerves are damaged, it can result in yellow, brown or gray teeth.
Supplements and Medications – Did you take tetracycline while you were pregnant with your child? Certain antibiotics and medications can lead to dental discoloration, even in an unborn child.
Treating Yellow Teeth in Kids
At Georgia Orthodontics & Children's Dentistry, we always want to hear your concerns about your child's smile. While white teeth are always desirable, if your child's dental health is not compromised, we typically do not recommend teeth whitening treatments until they have lost all of their baby teeth. Depending on the cause of the discoloration, however, we can recommend an effective treatment plan. A professional dental cleaning every six months, is often all it takes to reveal a clean, polished and brilliant smile!
Posted on behalf of Georgia Orthodontics & Children's Dentistry
13075 Hwy 9, Suite 110
Milton, GA 30004
Phone: (770) 521-2100
Mon – Fri
: 8:30am – 5:00pm