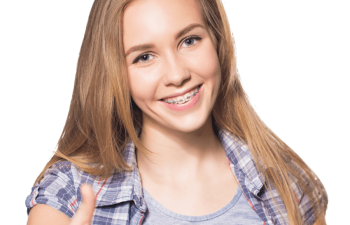 Getting braces for the first time can be a roller coaster experience for many kids and teens. They may be excited to get braces, but surprised by how different they can make your mouth feel at first. The initial transition of "getting used to" your brackets and bands can be difficult. One of the most frustrating aspects is often eating. Not only does it feel awkward to bite down and chew, but the teeth are typically sore for the first few days. To ease the transition for your child in braces and ensure they don't starve in the process, here are some healthy but comfortable foods to offer that won't trigger tears or pouting.
Mashed Potatoes – What says comfort food better than mashed potatoes? This is certainly an easy-to-eat food that is also easy on your braces!
Soups/Smoothies – When the mouth is especially sore, just opt for your favorite soup or smoothie. It's a great way to get nutrients in without worrying about dental discomfort. A cold smoothie can even be soothing to sore teeth and gums.
Fresh Fish – Many parents struggle to find protein options that are easy on new braces. Baked salmon and tilapia represent a winning braces-friendly food option!
Cooked Vegetables – Sautéed vegetables such as squash, steamed greens and fully cooked carrots are soft and super healthy.
Bananas – As for fruit after you first get your braces on, you can't go wrong with a banana. This soft and smooth snack is nutritious and perfect for "on-the-go" kids.
Drinks – While beverage won't be uncomfortable to drink, it is a good idea to educate your child on the drink options that are best for teeth in braces. When possible, stick to water or milk. Fizzy (carbonated) drinks and fruit juices can harm the enamel of your teeth, and we want to keep them as protected as possible when they are trapped in braces.
Other Helpful Tips
You'll be given a list of foods to avoid altogether when in braces, such as candy, popcorn and nuts. Keep in mind that most of your diet can remain, but you may need to cut up your meals in smaller bites – especially at first. If you are new to braces and don't want to sacrifice your rich palate, check out these Pinterest "braces friendly" recipe ideas!
Have more questions about eating with braces? Call Georgia Orthodontics & Children's Dentistry today.
Posted on behalf of Georgia Orthodontics & Children's Dentistry
13075 Hwy 9, Suite 110
Milton, GA 30004
Phone: (770) 521-2100
Mon – Fri
: 8:30am – 5:00pm