How Invisalign Can Protect Your Gum Health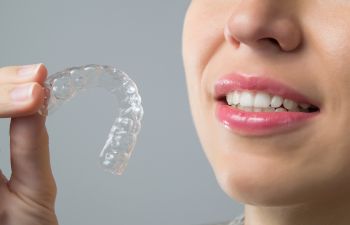 There are many orthodontic treatments available today. Beyond traditional brackets and bands, patients may now opt for a unique aligner therapy system such as Invisalign. The aligners look and feel much like a custom tray for teeth whitening. Besides their obvious advantage of a clear, discreet design, Invisalign also provides benefits towards your oral health – especially, your gum health.
Custom Fit for Better Comfort
Meticulous measurements are taken of your mouth before beginning your Invisalign treatment. This information is used to fabricate smooth aligners that fit over every crevice and groove of your unique smile. This means the aligners will stay in place and not come down too far over the gum line. In turn, patients rarely suffer from irritations or sores on their gums, lips or cheeks.
Easier to Clean Teeth & Gums
If you have overlapping or crowded teeth, you may already suffer from swollen or infected gums. The Invisalign process itself will straighten your teeth and provide a better environment for proper cleaning.  However, there's another exclusive perk that Invisalign offers during your actual treatment.
The Invisalign aligners are removable for eating, brushing and flossing. You won't have to navigate through wires and brackets to clean your teeth and you won't have to constantly battle sugars and food debris that get stuck on your orthodontic appliances. A cleaner mouth dramatically reduces your risk for gum disease.
Invisalign is a highly preferred orthodontic treatment option, as it requires very little sacrifice on behalf of the patient to attain a straighter, more beautiful smile. Unfortunately, metal braces are not only difficult to wear, but they often leave teens and adults with unsightly stains and gingivitis to deal with when the braces come off. With Invisalign, you can undergo an effective orthodontic treatment while protecting your periodontal health at the same time.
Remember your gum health is closely associated with your overall health. Gum disease that goes untreated can lead to inflammation elsewhere in the body. Heart attacks, stroke and premature babies have been linked to advanced, untreated gum disease.
To learn more benefits of Invisalign, call Georgia Orthodontics & Children's Dentistry!  We love offering orthodontic option that are both dentist and patient approved!
Posted on behalf of Georgia Orthodontics & Children's Dentistry
13075 Hwy 9, Suite 110
Milton, GA 30004
Phone: (770) 521-2100
Mon – Fri
: 8:30am – 5:00pm