Is IV Sedation Safe for Kids?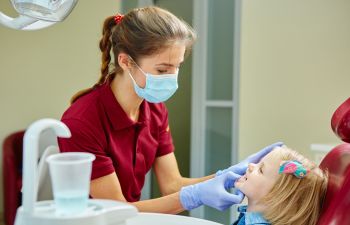 Contrary to popular belief, getting IV sedation at the dentist does not mean you will be "put to sleep." It is not general anesthesia. IV sedation is simple and safe for both children and adults. It involves receiving sedative medication intravenously. At any time, your medication can be adjusted to your level of comfort and need. IV sedation can be considered for young patients who need more help relaxing than what nitrous oxide (laughing gas) can provide.
Who can benefit from IV sedation?
Not every child qualifies for IV sedation, but most can take advantage of this effective, gentle and safe form of sedation dentistry. We like to screen each patient for candidacy based on factors such as past dental experiences, the child's temperament and cooperation level, dental trauma, medical history and proposed dental work that needs to be done. If you are concerned that your child may not want to return to the dentist after a certain procedure or dental visit, IV sedation can be an excellent solution.
In general, IV sedation is ideal for the following children:
Very young children who cannot sit still
Special needs children
Children with a severe gag reflex
Children who are very anxious or fearful about the dentist
What procedures can be done under IV sedation?
You don't have to have a lengthy or complex dental procedure scheduled to undergo IV sedation. Depending on your child's needs and level of concern, the following can be completed under IV sedation:
Diagnostic services – X-rays, intraoral imaging, and comprehensive examinations
Preventive services – Cleanings, fluoride treatments, and sealants
Restorative treatment – Fillings, crowns, root canal therapy
Oral surgery – Extractions, wisdom teeth removal
Minor orthodontic treatment – Space maintainers, orthodontic appliances
Laser gum surgery – Frenectomies, tongue-tie release, and gingivectomies
The Way We Do IV Sedation
At Georgia Orthodontics & Children's Dentistry, we specialize in helping children relax at the dentist. Dr. Chong elects to have a board-certified M.D. anesthesiologist administer the IV sedation while he is treating your child. Having both doctors looking after your child provides the optimal environment of safety and comfort and delivery of the highest-quality dental care.
To learn more about IV sedation for your child, please call our Milton office today.
Posted on behalf of Georgia Orthodontics & Children's Dentistry
13075 Hwy 9, Suite 110
Milton, GA 30004
Phone: (770) 521-2100
Mon – Fri
: 8:30am – 5:00pm