Retainer Rules Worth Remembering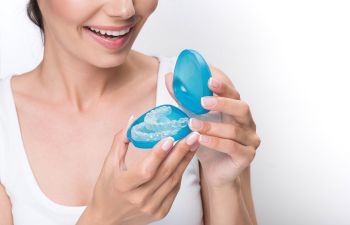 Every orthodontic patient looks forward to the same day – the day when their brackets and bands come off and a beautiful straight smile is revealed. Now that you understand how much the sacrifice of wearing braces has paid off, there's something else you should know. Your orthodontic treatment isn't done. When braces are removed, you enter into the retention phase of your treatment.
The Importance of Retention
The retention phase of orthodontics has a primary goal of retaining your newly aligned teeth. In most cases, retention involves either a fixed or removable retainer. While your retainer is certainly more discreet than braces and may not have to be worn all the time, it is no less important. In fact, neglecting to wear your retainer after braces can be one of your biggest mistakes, as your teeth will tend to slowly migrate back to their original (crooked) position without a little reminder from your retainer. A retainer protects your investment, your hard work and most importantly your straight smile.
Tips for Retainer Care
Just like any orthodontic appliance, your retainer requires proper care and usage. Retainers are an investment that warrant repair or replacement when they get damaged or lost. Before you embark on your final retention phase of orthodontic treatment, know these rules for retainer care:
Wear your retainer exactly as your orthodontist instructs.
Remove your retainer when eating.
When your retainer is not in your mouth, it should be in its case (not a lunchroom napkin).
Keep your retainer out of the reach of dogs and other pets (it is an expensive chew toy).
Avoid storing your retainer in a heated environment (such as on a heater or in a hot car).
Clean your retainer daily (brush with toothpaste and/or soak in effervescent cleanser).
Do not use harsh chemicals on your retainer.
Bring your retainer with you to your orthodontist appointments.
Retainer Worries
Unfortunately, it is common for young patients to have a retainer that is broken, warped or missing. Don't put off telling your orthodontist! If you neglect to wear your retainer for a long period of time, you may find that the appliance is quite snug the next time you put it in – or it may not fit at all. Always bring your retainer concerns to your orthodontist. At Georgia Orthodontics & Children's Dentistry, we care about straightening your smile as well as keeping your smile straight!
Posted on behalf of Georgia Orthodontics & Children's Dentistry
13075 Hwy 9, Suite 110
Milton, GA 30004
Phone: (770) 521-2100
Mon – Fri
: 8:30am – 5:00pm