Should You Pull Your Child's Loose Tooth?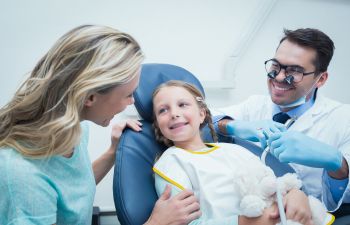 Have a child who is pre-occupied with a loose tooth but refuses to pull it out? We've all been there. Watching that pesky dangling tooth can be unnerving, especially when it hangs on for days or weeks. It may even be bothering your child or causing them to avoid eating. In such cases, many parents are tempted to just pull out the loose baby tooth themselves. But is this always best? Here's a close look at what you need to know before you remove your child's primary teeth on your own.
Wiggling Baby Teeth
A primary tooth that becomes loose or "wiggles" often means there is a permanent tooth that is coming down right behind it and taking over the roots. The roots of the baby tooth will progressively dissolve until the entire tooth falls out or dislodges from the gums. This is a natural process of tooth loss for children, but it is not the only way. Your child's tooth may also wiggle after a fall or traumatic injury. In such cases, you'll want to call your dentist right away for steps on what to do.
Predicting Loose Teeth
In general, kids lose their baby teeth in the same order that they erupted. Front teeth are often the first to go at around age six or seven. Don't be alarmed if your child is slow to lose his or her primary teeth, but do ask your dentist if you should be concerned. There are times in which a dentist may choose to pull a baby tooth for orthodontic reasons or if the permanent tooth needs to go ahead and erupt.
To Pull or Not to Pull?
If your child's tooth is loose, is there harm in pulling it before it's ready? It depends. First consider whether your child wants you to pull it. If your child is insistent that everyone stay away, leave it be and know that the tooth will naturally fall out on its own.
In situations when a child wants you to pull his or her tooth, you'll need to do some initial evaluation. Does it cause the child pain when you gently tug or barely wiggle the tooth? If so, the tooth is probably still too rooted to be removed. On the other hand, if the tooth can easily be shifted back and forth (or even twisted) without discomfort, try wrapping the tooth in a tissue and squeezing it. If the tooth is ready, it should easily come out.
At Georgia Orthodontics & Children's Dentistry, we encourage our young patients to jiggle their loose tooth with their own fingertips or tongue until it comes out. This will help minimize pain and bleeding. Losing a baby tooth should be a memorable and not traumatic experience when it happens naturally.
Is your child almost ready for a visit from the Tooth Fairy? Try to first be patient. If a loose tooth is concerning you or simply not coming out on its own, contact our pediatric dental team for help.
Posted on behalf of Georgia Orthodontics & Children's Dentistry
13075 Hwy 9, Suite 110
Milton, GA 30004
Phone: (770) 521-2100
Mon – Fri
: 8:30am – 5:00pm