Summer is a Great Time for Orthodontics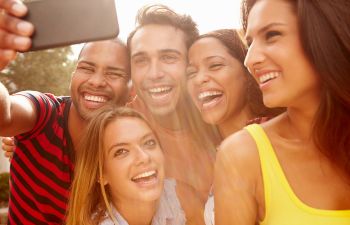 There's usually no way around it; orthodontic treatment requires time. Teeth can't shift into place overnight and there's often several steps of treatment needed before the final goal of a straight and beautiful smile is achieved. Of course, the specific length of time you'll need to be in braces is based on the severity of your orthodontic concerns. In any case, however, summer can be an excellent time to kick off your smile straightening treatment.
Easier to Fit in Appointments
Most orthodontic treatment options require you to visit the office on a regular basis. This allows us to check your progress, replace bands and tighten your wires so that your teeth keep moving in the right direction. During the school year, it can be difficult or stressful to squeeze in orthodontic appointments between school hours and extra-curricular activities or sports.
Easier Transition
Many young patients and teens worry about returning to school with their brand new braces. Braces typically involve an initial transition period to allow your gums and lips to get used to the brackets on your teeth. This may mean you speak a little different at first or encounter some extra soreness when trying to eat. Whether it is a worry of discomfort or aesthetics, making the transition to braces is simply less stressful when done in the summertime and away from school.
Easier to Play
For the majority of students, summer is a time to take a break from academics as well as sports and band. Your summer play time probably consist of swimming in the pool with friends, which makes participation non-inhibited with braces. Especially if you play an instrument or have trouble wearing a mouthguard over your braces, it is best to get your braces treatment out of the way during the summer. While you may not be able to complete your entire course of treatment during the summer months, you can be well on your way to a straight smile by the time school starts back and extra-curricular obligations return.
At Georgia Orthodontics & Children's Dentistry, we realize that not every patient is given the opportunity to choose when their treatment can begin. However, many situations involve some leeway in terms of when to start orthodontic correction. The timing of braces can dramatically affect how challenging treatment is for your family or your child. If your child is facing a significant obstacle in getting traditional braces, please ask us about our other advanced treatment options, such as Invisalign for Teens or self-ligating braces. We have a stress-free solution for everyone!
Posted on behalf of Georgia Orthodontics & Children's Dentistry
13075 Hwy 9, Suite 110
Milton, GA 30004
Phone: (770) 521-2100
Mon – Fri
: 8:30am – 5:00pm