The Importance of Fluoride During Orthodontic Treatment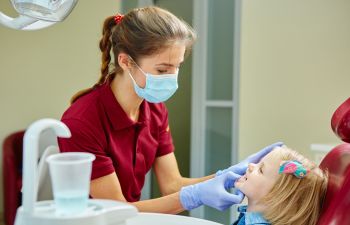 Braces are the gold standard treatment for moving teeth into better alignment. While we encourage patients to undergo orthodontic treatment to straighten their smile, we never want the results to come at the expense of their oral health. Beyond special flossing tools and more diligent brushing habits, we typically recommend that our orthodontic patients use fluoride each day. Not all fluoride, however, is created equal. It is important to understand why we want you using fluoride and which method of fluoride is best for you.

You may know that fluoride is included in most toothpastes. While this is an excellent way to make sure your pearly whites are getting this vital mineral, there are stronger methods available for orthodontic patients. Fluoride can also be prescribed by your dentist in a more concentrated gel. We know that fixed brackets, wires and bands can be an obstacle to proper teeth cleaning. Therefore, we often recommend fluoride as an extra tool of protection for your teeth during braces treatment.
Fluoride during orthodontics can offer the benefits:
Lower Risk of Cavities
Fluoride promotes strong teeth and bones. When your smile gets the right amount of fluoride it needs, you're less prone to tooth decay.
Avoid Demineralization ("white spots") on Your Teeth
White spots are commonly present after braces come off. These unsightly blemishes are caused by plaque sitting on your enamel for too long. The physical demineralization process is the first stage of decay and is what causes the white spots on your teeth. By placing fluoride back into your tooth, you can help reverse the unwanted process of tooth demineralization.
Mediate Poor Oral Hygiene
Let's face it; not all children and teens put forth a 5-star effort when brushing and flossing. Using fluoride will help preserve your child's oral health and strengthen the enamel in those spaces that may be missed on occasion.
Which Fluoride is Best for Me?
At Georgia Orthodontics & Children's Dentistry, our Doctors are happy to discuss an appropriate fluoride product based on your age, oral hygiene habits, past risk factors and type of orthodontic therapy. We value the opportunity to protect your oral health while you straighten your smile!
Posted on behalf of Georgia Orthodontics & Children's Dentistry
13075 Hwy 9, Suite 110
Milton, GA 30004
Phone: (770) 521-2100
Mon – Fri
: 8:30am – 5:00pm