The Importance of Seeing Your Dentist During Orthodontics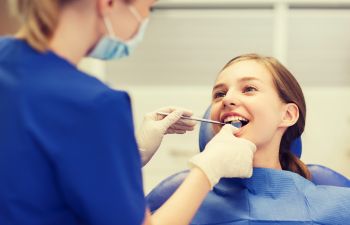 If you are currently undergoing braces treatment, either as a teen or adult, you may think your frequent trips to the orthodontist are all you need to keep your oral health in check. This can be a costly and unfortunate assumption. It is actually even more important to maintain your regular dental checkups if you are involved in orthodontic treatment.

Oral Health Risks While Wearing Braces
Brushing and flossing with orthodontics can present significant challenges. You've got extra appliances (wires, brackets and rubber bands) in your mouth that interfere with your toothbrush and harbor more bacteria and food than normal. Consequently, there are certain oral health concerns that are common for orthodontic patients, and they are issues that only a dentist can properly address.
The recommendation to see your general dentist during your time in braces is strongly supported by the following three reasons:
Plaque and Tartar – Braces or other appliances placed on your teeth create additional spaces where food particles and bacteria can collect. This can easily lead to plaque and tartar formation around your brackets and bands.

A professional dental cleaning is needed to remove this stubborn buildup.
Decalcification – This is a common occurrence for many orthodontic patients who do not visit their dentist regularly. Decalcification happens when your teeth lose calcium due to plaque accumulation on your tooth enamel.

The result is unsightly white spots that are preventable with proper hygiene and dental checkups.
Cavities – No one wants tooth decay. But for those in braces, cavities can actually lengthen your orthodontic treatment time.

A cavity can require a band or bracket to be removed in order for your dentist to fill it. This means additional appointments to both your orthodontist and dentist.
Considering all of your hard work towards a straighter smile, don't neglect the health of your pearly whites in the process.

The Benefit of a Dentist and Orthodontist in One Place
At Georgia Orthodontics & Children's Dentistry, we make it easy to keep up with your dental care while wearing braces. Our office proudly offers a full menu of services in general pediatric dentistry as well as complete orthodontic treatment. In doing so, we can ensure that when your braces come off, you can reveal a healthy and confident smile!
Posted on behalf of Georgia Orthodontics & Children's Dentistry
13075 Hwy 9, Suite 110
Milton, GA 30004
Phone: (770) 521-2100
Mon – Fri
: 8:30am – 5:00pm