What is the Purpose of Two-Phase Orthodontic Treatment?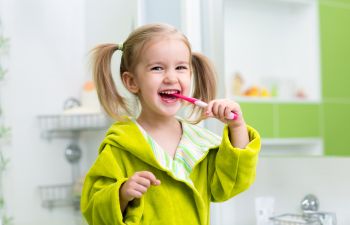 Isn't my child too young for orthodontics? Not necessarily. Many children qualify for "two-phase orthodontic treatment." This is when an orthodontist detects a problem in a young child that will eventually need orthodontic treatment. To lessen future treatment or make the correction easier, there may be ways to intercept potential problems when the child is young and still has baby teeth. This is why you may see elementary-aged kids in braces, retainers, spacers or other orthodontic appliances, as they are in Phase 1 of their 2-phase treatment.
Most kids complete one comprehensive phase of braces. However, some kids benefit from two-phase orthodontic treatment, which takes advantage of dental development while the child is still young and growing. Two-phase orthodontics can be used for the following:
Help jaws to develop in a way that allows space for all permanent teeth
Reduce the potential of needing to pull adult teeth in the future
Avoid corrective surgery as a teen or adult for certain orthodontic problems
Normalize the relationship of the upper jaw to the lower jaw
Intercede to stop a child's thumb sucking habit or abnormal swallowing.
Tuck in upper front teeth that are protruding, which can also lower risk of trauma to those teeth
It may seem odd to have braces or other orthodontic appliances on baby teeth. However, braces on young children are not intended to make aesthetic corrections. Instead, teeth movement during Phase One can be an effective means to reduce or even eliminate orthodontic correction of adult teeth, depending on the specific case.

At Georgia Orthodontics & Children's Dentistry, we understand the importance of Two-Phase treatment if it applies. We always seek ways to reduce your child's time in braces while also providing the most effective treatment for a beautiful and well-aligned smile in adulthood. If you have questions about our options in children's orthodontics, please give us a call.
Posted on behalf of Georgia Orthodontics & Children's Dentistry
13075 Hwy 9, Suite 110
Milton, GA 30004
Phone: (770) 521-2100
Mon – Fri
: 8:30am – 5:00pm