When Your Child Knocks Out a Tooth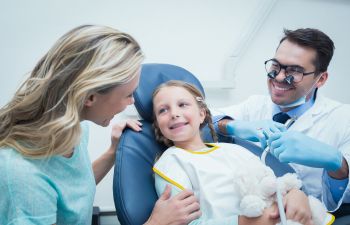 It can be frightening to watch your child get hurt, especially if the injury involves their mouth.  When a tooth gets knocked out completely, it is called dental avulsion. If it is a primary tooth, it typically won't be reimplanted because of the risk of damaging the emerging permanent tooth. However, if it is a permanent tooth that gets dislodged, there are some steps you can take to increase the likelihood of saving it.
Act Fast: A knocked out tooth needs to be addressed with a dentist within the first hour of injury for best results.
Handle With Care: Do not touch the tooth roots when recovering and handling the avulsed tooth.
Clean It Well: Gently rinse off any dirt or debris with plain water. Avoid scrubbing.
Preserve It: For older children, you may be able to actually put the tooth back into its original socket and hold it there until you can see a dentist.  If this is not possible, put the tooth into a glass of milk or saliva. This keeps it moist and preserves tooth viability better than other liquids.
Contact Your Dentist: If you are trying to save an adult tooth, it is critical that you see your dentist as soon as possible.
At Georgia Orthodontics & Children's Dentistry, we proudly offer emergency pediatric dental care to families in Milton, Ga. We treat dislodged teeth, cracked or broken teeth, toothaches, lost fillings and other urgent dental situations. We deliver state-of-the-art care in a calming and compassionate environment. If your child has suffered a dental injury, rest assured that we can alleviate their discomfort and restore their smile with excellence.
Posted on behalf of Georgia Orthodontics & Children's Dentistry
13075 Hwy 9, Suite 110
Milton, GA 30004
Phone: (770) 521-2100
Mon – Fri
: 8:30am – 5:00pm