Why Baby Teeth Need Proper Care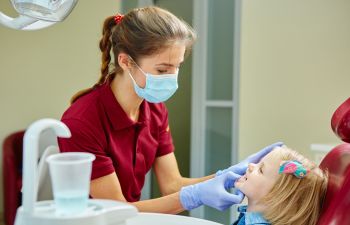 The primary teeth, most often referred to as "baby teeth," are the first set of teeth to erupt from a child's gums during the first few years of life. Though baby teeth are only temporary until permanent teeth take their place, these twenty teeth play critical roles towards a child's development and well-being. Just because they won't be the teeth you bring into adulthood, doesn't mean you shouldn't care for them. In fact, not giving baby teeth the attention they need could result in several setbacks ranging from missed school days and speech challenges to costly orthodontics and more.
Pediatric Dental Care
Prevention is key when it comes to your child's smile. This includes teaching your child to brush and floss properly, and seeing to it that they accomplish the task twice a day. It also means taking your child to the dentist every six months. These routine checkups include cleanings, x-rays and even sealants to ensure your child's oral health is on track. If a cavity is detected, it can be treated conservatively, at its earliest stage.
Consequences of Not Caring for Primary Teeth
Unfortunately, there is a common misconception that baby teeth don't matter. However, failing to keep these primary teeth healthy until adult teeth emerge can be a devastating (and costly) mistake. The following can occur when baby teeth are neglected, allowed to decay and eventually fall out:
Missed School Days: Did you know that untreated cavities are one of the leading reasons for missed school days in children? At its advanced stages, tooth decay can be painful and even result in an infection within the tooth. In result, a child may not be able to attend school.
Poor Nutrition: Whether you are 5 or 85, you need all of your teeth to chew your food properly. If chewing function is compromised from missing or painful teeth, it can lead to a lack of nutrition in a child. A balanced diet is critical for a child's physical and mental development!
Compromised Speech: A young child is learning certain pronunciations at each stage of development. When there is one or multiple teeth missing, a child's speech development can be delayed.
Misalignment of Permanent Teeth: Last but not least, primary teeth serve the valued purpose of holding the place for the adult set of teeth. If a baby tooth is lost prematurely, the adult tooth may erupt out of place. Misalignment issues as a teen or adult can often demand orthodontic treatment and even jaw issues due to an unbalanced bite.
Need help on what proper dental care for a child involves? We want to help. Call Georgia Orthodontics & Children's Dentistry. We are a comprehensive dental practice that focuses on pediatric dental care!
Posted on behalf of Georgia Orthodontics & Children's Dentistry
13075 Hwy 9, Suite 110
Milton, GA 30004
Phone: (770) 521-2100
Mon – Fri
: 8:30am – 5:00pm