Why Does My Child Have Bad Breath?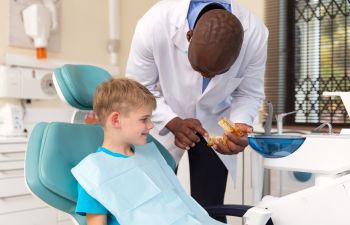 How can such a foul odor come from such a tiny, cute mouth? Many parents are surprised to find that their young child has consistent bad breath, even after brushing in the morning. Halitosis in kids is not uncommon. Many of the same reasons that cause bad breath in adults can also be the culprit in a child's mouth. While better oral hygiene can stop many cases of stinky breath, you may have to do some further investigating to find the cause and get relief. Here are Colgate's five surprising causes of bad breath in children:
#1 Sinus Infection
If your child's bad breath is also accompanied by a sore throat, post nasal drip or stuffy nose, you may want to have your pediatrician evaluate him or her for a sinus infection. Once the infection is cleared with an antibiotic, the lingering stinky breath should resolve.
#2 Foreign Objects
When an object (bead, bean or toy part) gets stuck in the nasal passages, it can produce a foul odor. If you have a curious child that may have lodged something in his or her nose, consider it a possibility for their sudden halitosis.
#3 Tonsil Issues
Before you nag your child about not brushing or flossing, you should take a look at their tonsils as a culprit to their bad breath. If the tonsils look swollen, red or white spotted, you may have found the source of bad breath. Tonsil stones and the pus pockets of infected tonsils can emit a terrible smell.
#4 Dry Mouth
People of all ages are susceptible to dry mouth. Whether it is a medication side effect or a failure to stay hydrated, dry mouth is a leading cause of bad breath. A lack of saliva means there is less chance of washing away odor-causing bacteria and food debris. Drinking more water can help!
#5 Oral Issues: Tooth Decay and Gum Disease
It is very possible that your child has been skipping his or her dental care routine. Consistent neglect of brushing and flossing can lead to excessive oral bacteria in the mouth. Bacteria is the primary cause of tooth decay as well as gum disease, which are both serious oral health issues that can start to smell bad if they are not treated in a timely manner.
If you are concerned about your child's bad breath, please let us know. At Georgia Orthodontics & Children's Dentistry, we can treat halitosis in young patients so that you aren't tempted to back away at those rare kisses and snuggles from your kids.
Posted on behalf of Georgia Orthodontics & Children's Dentistry
13075 Hwy 9, Suite 110
Milton, GA 30004
Phone: (770) 521-2100
Mon – Fri
: 8:30am – 5:00pm